Lecture:Nanozymes, DNAzymes, and Biointerfaces
WHEN: 
Thursday, 2017, December 21 - 10:30
SPONSOR: 
School of Chemistry and Materials Science, Nanjing Normal University
DETAILS: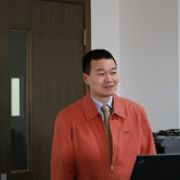 Juewen Liu
Juewen Liu is a professor and doctoral supervisor of Chemistry at the University of Waterloo, Canada. In 2000, Prof. Liu received Bachelor of Chemistry degree at University of Science and Technology of China. In 2005, he got his doctorate in Chemistry at University of Illinois. Since 2009, the year he was employed at the University of Waterloo, Canada, he have received a number of research grants from Natural Science Foundation of Canada, Canada Foundation for Innovation (CFI), Fred Beamish Award of the Chemical Institute of Canada, Young Investigator Award of Ontario. In recent years, more than 220 journal articles of Prof.Liu have been published, including Chem. Rev. (2), J. Am. Chem. Soc. (21), Angew. Chem. Int. Ed. (7), Anal. ) which are already cited more than 15,000 times. 36 of them are all cited more than 100 times. Liu is now appointed as Associate Editor of the magazine Analytical Methods of the Royal Society of Chemistry and mainly engaged in studying analytical chemistry, physical chemistry and surface properties of aptamers, nanomaterials and soft materials.