Academic Event | NNU's Computer Science discipline is ranked among the top 1% in ESI
On September 9th, 2021, Clarivate Analytics released its latest data for ESI (Essential Science Indicators) rankings in September. In the Computer Science category NNU ranked in the top 1% in the ESI for the first time. 
For six consecutive years from 2015 to 2020, NNU has been adding one top 1% ESI discipline per year. In 2021, NNU has added 2 new top 1% ESI disciplines, which include Social Sciences, General and Computer Science. So far, NNU has 10 disciplines ranking in the top 1% of ESI, of which chemistry and engineering have entered the top 0.3%.
NNU ranks among the top 1% of ESI disciplines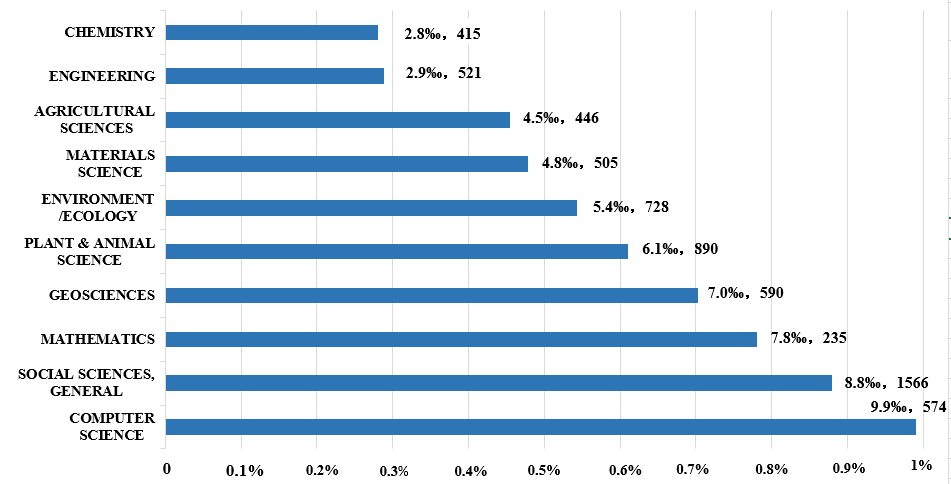 According to the statistics, a total of 385 papers were published from January 1st, 2011 to June 30th, 2021, with a total of 4329 citations (11.24 per article), of which 8 are highly cited. Among the 580 institutions of the top 1% in the world, Computer Science of NNU ranks 574th.
Taking an overall look at the rankings, among the 22 disciplines counted by ESI, the number of ESI papers from NNU has increased to 13,176, the total number of citations has reached 170,219 (12.92 per article), and the number of highly cited papers has increased to 202. Compared with the data from July 2021, NNU's ESI global ranking (according to the total number of citations) was up by 15 to 1039th in the world.
Essential Science Indicators (ESI) is a basic analysis and evaluation tool for measuring the performance of scientific research and tracking the development trend of science, which was launched in 2001 by the Institute for Scientific and Technological Information (ISI), a world-famous academic information publishing institution. It is an econometric analysis database based on more than 10 million publications in more than 11 thousand academic journals collected by Web of Science (SCIE/SSCI), Clarivate Analytics (formerly Thomson Reuters). ESI covers 22 disciplines, and the division is based on the category of the periodicals. Now, ESI has become one of the important tools for evaluating the international academic level and influence of universities, academic institutions and countries or regions in the world.