Campus Life | All schools of NNU go all out to welcome the freshmen
On September 16, 2020, Nanjing Normal Universality opened up their doors for the freshmen, and all 28 schools in NNU set up a special welcome spot for the new students.
Apart from two formal reception booths at the gates of the Xianlin Campus and the Suiyuan Campus, the different schools of NNU also set up their own welcome spots, which were very unique and contained the features of their disciplines.   
The School of Foreign Languages and Cultures has a tradition for freshmen. Volunteers were waiting in front of the Huacheng Building, and new students were able to learn a sentence in one of seven languages they were interested in. The sentence meant "welcome to the university" in English, and this offered freshmen a chance to touch a totally new language and a new world.
And there was something new, of course. This year seniors prepared adorable succulents for the freshmen, and everyone could take a succulent home for free. 'The small succulent was quite lovely and seemed petite, but it had strong energy. "The color green also stands for new life, and these are our good wishes," said a volunteer from the student union.
(Photos provided by Dongyang Wu and Jing Wang)
A volunteer from School of Chemistry and Materials Science introduced their preparation for the freshmen, "Firstly, we decorated a conference hall as the welcome spot and we have prepared five chemical experiments for the new students, for them to better understand our discipline. "
There was also a signature wall erected in the front of Huaxing Building, which showed the emblem of the School of Chemistry and Materials Science. The volunteer said, "Our schoolmate also dressed in the costume of Kumamon, which is a cute cartoon bear image from Japan. The new students can hug him and take a photo and we hope this will be an amiable friend for them."
(Photos provided by Dongyang Wu and Jing Wang)
The School of Life Sciences was located at North Xianlian Campus, for their "new friends", the school union set up a booth in the Xingzhi Building to distribute the school cards and lead them to visit the newly opened specimen museum.
Kexin Gao, a senior student form The School of Life Sciences introduced this museum. "All the specimens are made from real animal cadavers. We have a lion, snake, panther, vulture and more. We will invite every freshman to visit it, and the volunteers will serve as guides to introduce how we made them, as specimen-making and anatomy are very important in our courses."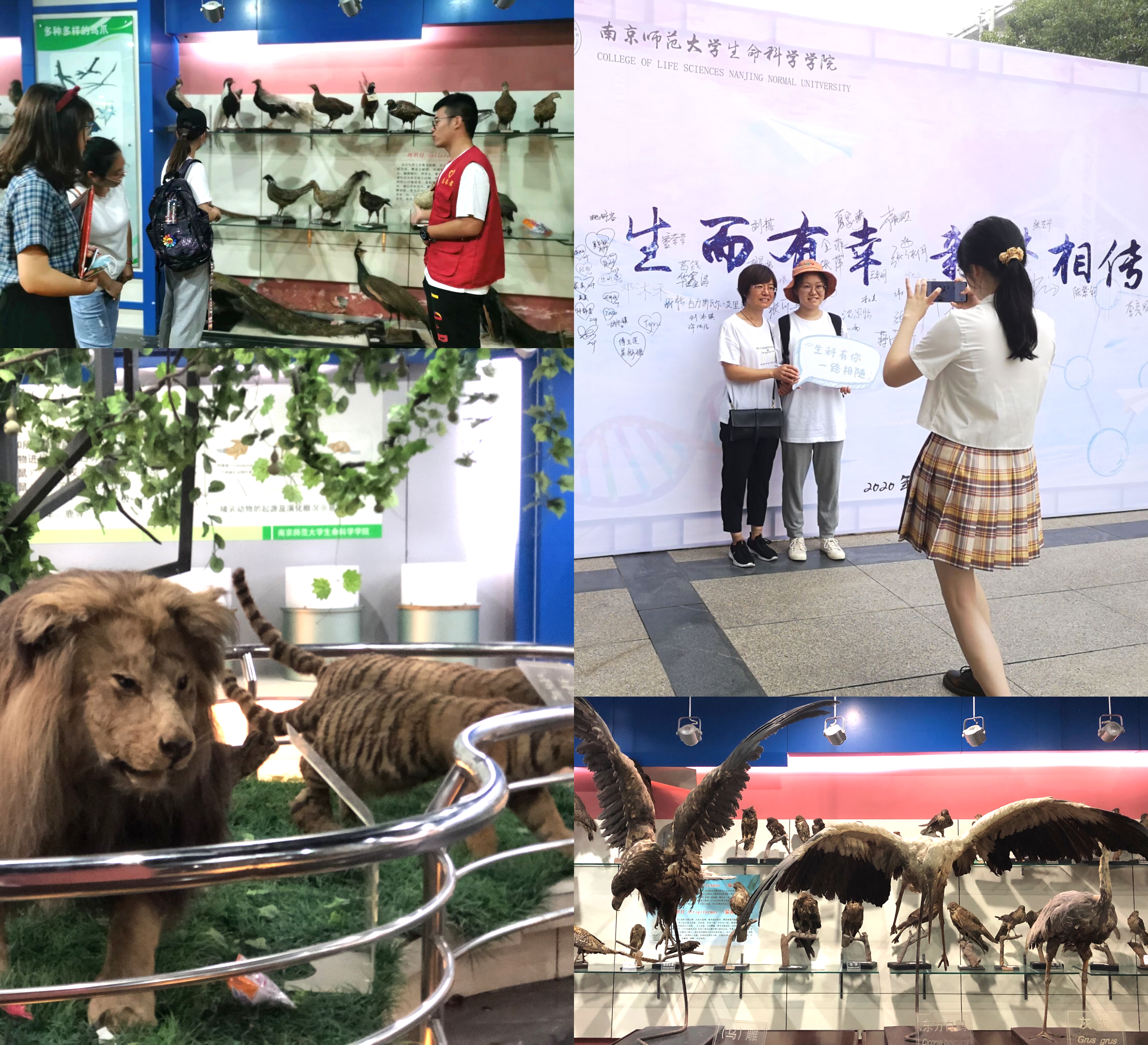 (Photos provided by Dongyang Wu and Jing Wang)
For the School of Fine Arts, the students are adept at design and handcraft, so the seniors made a lot of exquisite handiwork as presents. The volunteer introduced that they have their own club in the school, and as professional students, they have a lot of things to do. Moreover, freshmen also have the chance to DIY. They can make pendants with their own hands and this work will belong to themselves.
To help the students with economic problems, NNU has set up a "green channel" to provide a loan in case they are unable to afford the tuition, and in Xianlin Campus the agency is in the Fangfei Building.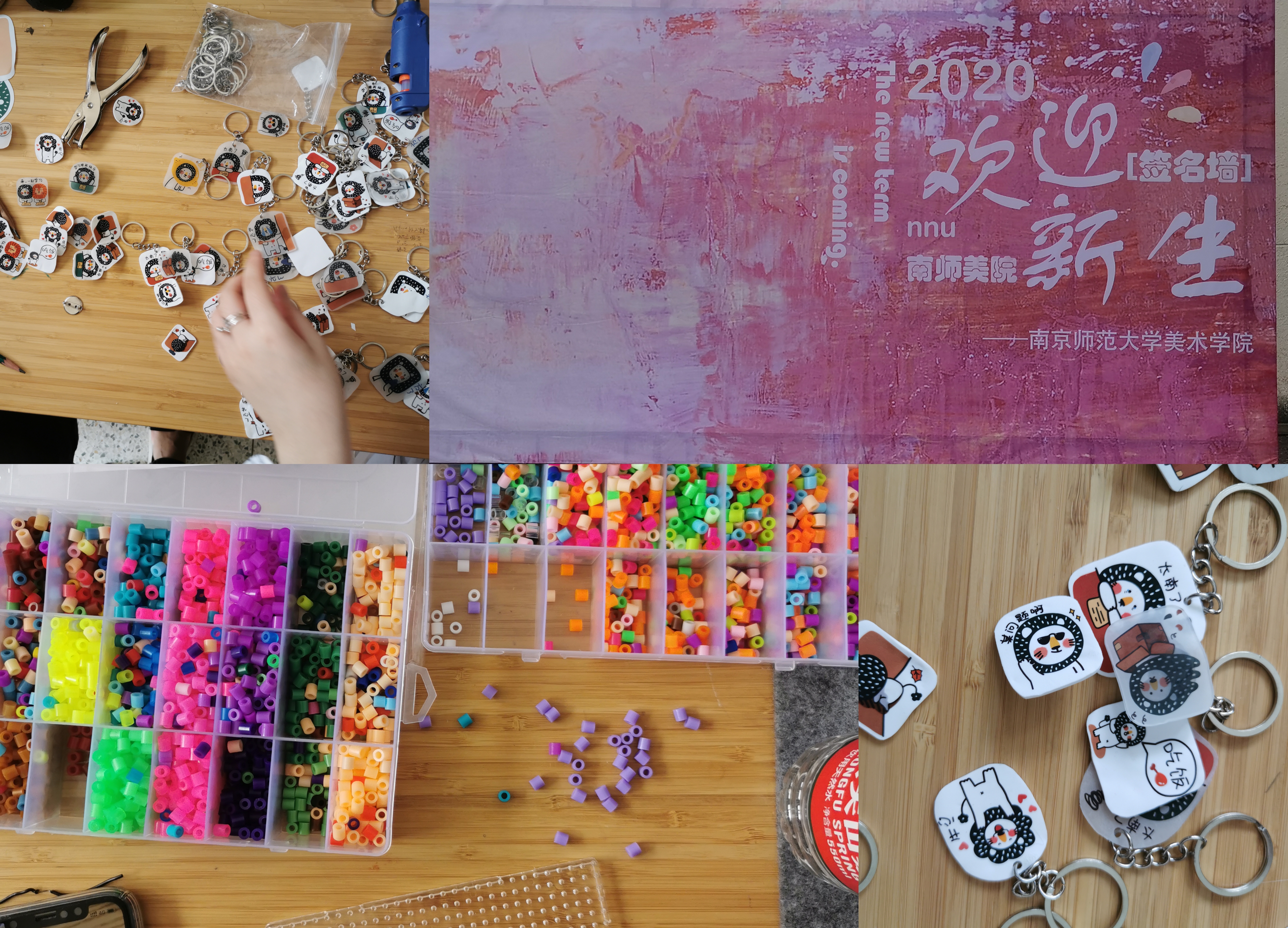 (Photos provided by Dongyang Wu and Jing Wang)
A representative for the "green channel" said, "Any student who is from a family with financial difficulties can apply for a loan. But we will strictly assess his family condition, including the loan application. We will approve it on a case-by-case basis to make sure that students who are in real trouble can get the help they need."
(Photos provided by Dongyang Wu and Jing Wang)
The "green channel" also provided a gift bag for each student who applied for this program. It included soap, shampoo, a plug board and some stationary, all of which are very useful and essential for college life.  
On the Suiyuan Campus, since there were both graduates and undergraduates, the process was a little bit different. Thus, the volunteers on the Suiyuan Campus were divided into two lines, one for each. A counselor from the School of music introduced their distinct welcoming lecture for freshmen, which was given by a famous musician and teacher. Students will also learn the school anthem as students majoring in music. Then for the students who have economic problems, besides the gift bag from the green channel, the School of Music will also provide one more, with daily necessities in it.
(Photos provided by Jing Wang)