Campus Life | NNU international students participated in the 2020 International Day of Peace
Youth are a force for world peace and development and a link for international cooperation. On September 21st, 2020, on the International Day of Peace, a session for young adults, was held in Nanjing under the theme "Art for Peace". UNESCO, the China National Committee for UNESCO, the Information Office of the Jiangsu Provincial People's government and Nanjing Municipal People's Government jointly sponsored the event. Minxing Ou, director of the UNESCO representative office in China and a UNESCO representative to China, North Korea, Japan, Mongolia and South Korea, Yong Chen, a member of the Standing Committee of the Nanjing Municipal Committee and Minister of Publicity, Ying Cui, under-secretary-general of the National Committee of UNESCO, as well as student representatives from NNU, experts, scholars and youth representatives from various fields from home and abroad participated in the event.
This session, held in the form of an "Art Party", brought music, poetry, dance and other cross-field performances to express the concept of peace, to promote dialogue and exchanges, and to stage a peaceful pursuit. Jiaming Ding, Danqing Ou and Mélina, representatives of the international students from the International College for Chinese Studies at NNU, participated in the performances.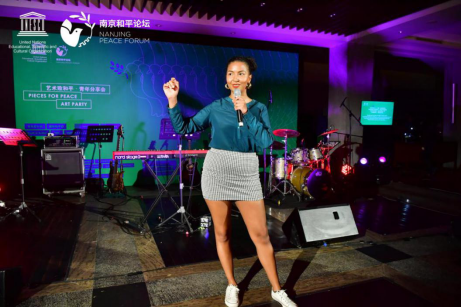 Mélina, from France, first sang "Just the Two of Us" with British returnee singer-songwriter Stuart Heron, and then sang "Le Secret de la Paix (the Secret of Peace)" on her guitar, this is the song she spent two days writing for the event, while Danqing Ou from Venezuela performed "Poema de Las cosas (Poetry About Things)" in Spanish. Dressed in a white shirt and black trousers, Jiaming Ding, from Nigeria, recited Martin Luther King, Jr.'s "I Have a Dream". The lively music eulogizes people's happiness in peacetime, and the sonorous and powerful recitation conveys the youth's cherishing and wishing for peace.
Reflecting on war in a peaceful way and paying tribute to peace in the form of art, representatives of the international students at NNU were invited to participate in the event and renewed their understanding of peace. As part of International Day of Peace, this event brought together young adults from many countries. They expressed their understanding of peace with poetry, music, dance and other forms of expression, and contributed their wisdom and strength to the promotion of world peace in their own unique ways.